Mobile energy plants
Extra energy - the quick way
When you need extra mobility
Don't have room for a separate boiler room, or just like the idea of a mobile plant? Then a block trailer or a modular housing unit from Verdo is the optimum solution.

We specialise in the construction, delivery and installation of mobile heating plants. A mobile warm water plant solution is ideal if you do not have space for a separate boiler room at your district heating facility, plant nursery or production or industrial company. Mobile heating plants make sense if extra heating is required for shorter or longer periods, or during the servicing or repair of your existing plant.
The option to purchase, rent or lease
Fast delivery
Total flexibility
High quality
Plants from 250 kW to 5,000 kW
All-in-one container or modular housing
Choice of fuel – gas, oil or biomass

In addition, we can deliver/rent out an external oil tank and hoses for connection to your existing plant, and Verdo can assist with start-up/operation/transport/connection.
Our mobile energy plants are supplied as 'plug'n'play' units. This ensures that less time goes to waste, as energy production can continue as before. All you need to do is connect the power supply, water, gas/oil and the feed pipes for the produced heat.

The plants are designed and built at Verdo's workshop using elements from leading suppliers of high-quality boilers and burners. All parts are pre-fitted in the container, which greatly simplifies on-site installation work. It also keeps costs down.

The plants undergo both a test run and thorough quality assurance before leaving Verdo's workshop, which guarantees optimum performance throughout their service life.
All you need
Verdo's mobile energy plants are supplied in standard 10, 20 or 40-foot ISO containers or on custom-built block trailers and in modular housing units (colour-customisable) and supplied insulated with lighting, heating and ventilation. The container is thus supplied complete with boiler, burner, pumps, feed-water containers, pressuriser systems, water-softening plant, mains supply panel and any other special equipment as required.

These are very high-quality plants distinguished by their flexibility and accessibility.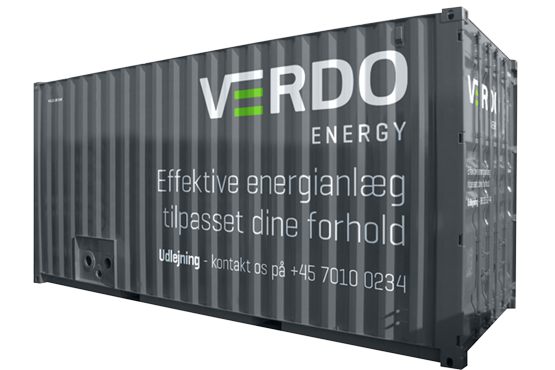 Contact us - we are here to help you
You might be interested in...
Mobile energy plants – extra energy, the quick way. Learn more about the flexibility and benefits of containerized energy solutions.
Download brochure